Your Question:
How can I give her sexual orgasm without ejaculation?
---
You must have a power-up penis and she must have a power-up clitoris and G-spot to achieve this double benefit condition as shown in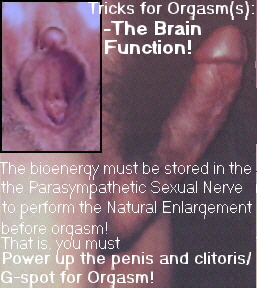 since she can not achieve orgasm with a soft penis. She needs a hard erection to have her G-spot and Epicenter stimulated effectively. You must be able to hold ejaculation back 3-5 times to get the power-up penis. After the penis is fully powered up it become numbed or semi numbed.The detail is given in case7648.htm. Sexual ChiKong practice will help hold ejaculation back during intercourse. The most usfull apporach is to perform Sexual ChiKong Intercourse.
OK! There are two methods to give her orgasm without ejaculations. They are:
Method 1 for those who can have their penis fully erected - When his penis can fully erect and become hard, he has enough sexual potential to drive her to reach orgasm. In this case, what you have to do are:
1. Stay calm and Avoid stimulation of your trigger zone!
2. Make sure that her vagina is very wetted. If not, massage her vagina or screw her. She must be completely ON.
3. Lock the ejaculation gate by continusouly pumping air into the lung and expanding the low abdomen (bladder) during the session of intercourse, apply the pressure to the bladder and prostate gland through the low abdomen and DON'T CONTRACT THE ANUS AND PROSTATE GLAND. This action will induce the internal force (chi) to lock (interrupt) the sexually sensing reflection and then numb the fully erecting penis.
4. Change positions from the attack ( male-drive) positions to the defense(female-drive) positions when you feel that the penis is subjected to over-stimulation or you are tired, don't forget to continuously lock your ejaculation gate, return to the attack positions if she does not completely erupt yet.
5. When you feel that there is ejaculation pressure build-up, deeply breath air into your lung, expand your lower abdomen to maximum and hold the breath, then put out your penis from her vagina slowly(don't touch your trigger zone), squeeze the root of your penis, and put down your testicles
6. Keep in mind that you have to stay calm (you should better forget sex when you are intercoursing) and repeat (4) & (5) with various positions until she erupts.
Method 2 for those whose penis is not fully erected - In this case, he has to be recharged by her. If you are sexually exhausted, you have recharge your system first - by having sex with her every morning but not to the point of ejaculation, eating sea foods and tonic herbs (ViaPal-hGH-D or -X).
1. Have her use her mouth to warm you up, or screw each other.
2. Massage your sexual activation spots.
3.If your penis is in the 3 o'clock position, start from the attack positions with her laydown and you standing up or kneeing-down.
4. When your penis reaches the 2 o'clock position, use Method 1 for the rest of the time.<